Does Car Insurance Cover Electrical Fires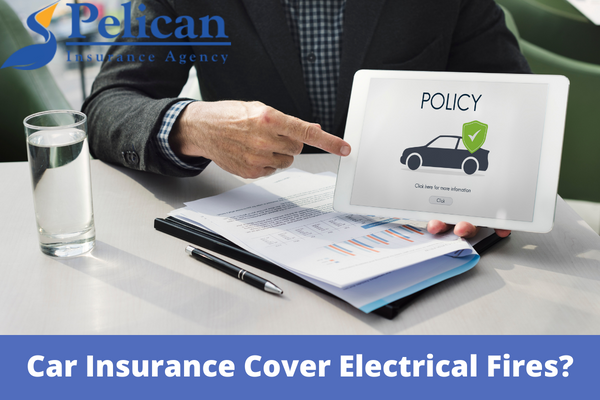 Car trouble is the last thing you need. A lot of people are unaware that their car's problems are electrical. To avoid unforeseen issues, you should ideally inspect your car's electrical systems once a year. Loose connections, frayed wires, or other wiring problems typically bring on these problems. Does your car insurance cover electrical issues regardless of the costs?
What Are Typical Vehicle Electrical Problems?
Modern cars and trucks have many complicated electrical systems, and as we all know, anything can cause an electrical problem. There are two typical electrical problems with vehicles:
Simple vehicle electrical issues, including a broken radio or power windows or faulty gauges (like an oil or gas indicator

Major electrical problems, such as poor wiring, may eventually result in car fires.
Worn-out wiring, a shortened fuse, or general wear and tear can cause electrical problems. The check engine light may alert you to some electrical issues; in other cases, the first symptom may be a resultant mechanical problem or something much worse.
Common Signs Your Car's Electrical System Is Failing
Common electrical problems in cars include unlocking, lighting, and starting the engine. Symptoms may vary if the car is dead, such as the inability to unlock the car or turn on lights and dashboard displays.
Car warning signs differ when starting and driving. Dim or flashing headlights while driving could signal a problem. A burning smell is the most dangerous, indicating possible fire or explosion. New cars have indicator lights to help detect and prevent issues.
How to Avoid Electrical Problems
While electrical troubles can't be prevented, you can attempt to avoid them by being informed of what to look for and what to do. Many of these fixes can be efficiently completed at home.
The first step is to remove any corrosion from the battery and its wires.

You can examine the drive belt to check for cracks or other signs of wear or dryness. The necessary amount of strain must be applied for the belt to function correctly.

Additionally, it would be best to frequently change your car's battery to prevent any difficulties when the battery is replaced too late.

Finally, ensure all interior and exterior lights, radio, and air conditioning are turned off before you exit the vehicle.
Does Car Insurance Cover Electrical Problems?
Insurance coverage for electrical issues in modern cars is important to understand due to the increasing number of electrical components. Coverage may not apply to problems caused by regular wear and tear, such as an old battery. However, depending on the policy, insurance may cover recently replaced parts like spark plugs if they fail.
Conclusion
You want the peace of mind that provides knowing you have insurance if something unfortunate happens to your car. Because of this, it's crucial to read your policy and comprehend what is carefully and isn't covered when it comes to electrical problems. It's recommended to contact Pelican Insurance Agency immediately if you need clarification on whether your policy will cover electrical repairs.