Does Car Insurance Cover Fire Damage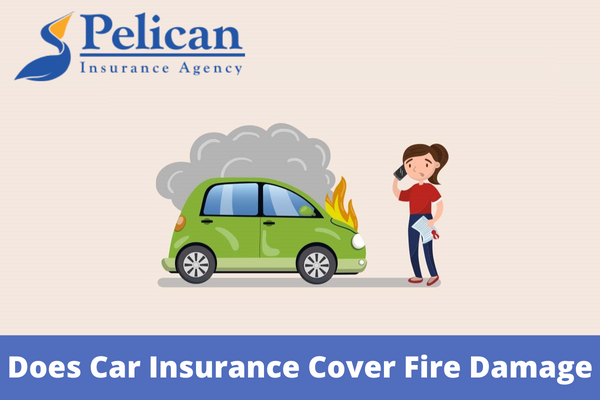 Even the thought of one's car catching fire is unsettling. We hope you never have to deal with something like this. Accidents, unfortunately, occur without warning. What if your vehicle catches fire? Are you ready for the fallout? You may wonder, "Does my car insurance cover fire damage?" All of these questions will be addressed in this blog.
Does Your Auto Insurance Policy Cover Fire Damage?
Experts in auto insurance say that if you get a comprehensive coverage plan, your insurer will pay any losses incurred due to a fire. These losses and damages might be internal or exterior, such as damage to the car's wiring or electrical fittings of some of the electrical parts and vehicle components caused by fire. For claim settlement purposes, fire is defined as ignition in or of the car in visible flames. As a result, if your vehicle is destroyed due to short-circuiting or overheating, it is not regarded a true fire, and the insurer does not recognize claims for it.
As a result, fire damage or loss to your vehicle is covered under the comprehensive plan. Third-party insurance, however, does not cover such damages. With a comprehensive plan, the insurance company honors the claim if it can prove that the loss or damage was caused by fire or other external or internal causes. However, if the fire damage is demonstrated to be intentional on the owner's part, the insurer will deny the claim.
How Do I File a Car Accident Claim?
Following the insurance company's procedures, you can file a claim for the burned-out car. But first, make sure your policy is active and covers fire damage.
Here's a step-by-step guide to filing a claim for a burned-out car.
Step 1: Contact your insurer by phone, email, or website. For example, go to www.acko.com and sign in.
Step 2: Share policy information and state your intention to file a car insurance claim for fire damage.
Step 3: Submit the documents requested by the insurer.
Step 4: The insurer will send a surveyor to inspect the damaged vehicle. The surveyor will also check the car and determine the source of the damage. Work with the surveyor and answer all questions truthfully.
Step 5: The insurer will accept or reject the claim based on the surveyor's findings. If the claim is accepted, it will be settled, and the policy's terms and conditions will pay you the claim amount. The car repair expenses or the vehicle's insured declared value will be paid. The latter is what will occur if the car is burned beyond repair. If your claim request is denied, you'll be informed of the reason for the denial. You can then work on the grounds (if any) and reapply.
Final Thoughts
Insurance policies are rife with exclusions and small print. While your coverage may be listed in large bold letters, its exclusions and terms and conditions are written in small letters, and a car insurance policy is no exception. However, if you keep your policy's terms in mind and file quickly enough for coverage to apply—your insurer will likely settle any legitimate claim.
Pelican Insurance Agency can help you understand the limits of coverage on your car insurance policy and help you choose a policy that best fits your needs. If you have concerns, please contact us today.