Fire Insurance Houston TX
Fire Insurance Houston TX
We know that fire can strike at any time, and it's important to have the right protection in place if it does. Fire insurance is a vital part of any home or business owner's insurance portfolio. It provides coverage for damage caused by fire and can be purchased as an additional layer of protection to your primary insurance policy. We are your fire insurance Houston TX go-to source. We offer a variety of options to fit your needs and budget in order that you may rest assured that your house will be safe from any danger that may arise.
Fire Insurance Coverage in Houston TX
In the case of a fire on your property, you must make a claim with your insurer to get compensation for repairs. Be sure to photograph all damage so that you have evidence to back up your claim. The insurance firm will dispatch an adjuster to your home to evaluate the damage. Verify the guest's identity upon arrival; identity theft is a real threat. Guide them as they explore your property to show them everything it has to offer. Before-and-after pictures can be very useful if you have them.
When you receive the quote from your insurance company, make sure to look it over. Check the details against the conditions of your insurance to make sure you're getting what you expected.
If a fire were to occur and cause damage to your home, the policy you have taken out would pay for the repairs up to the policy's maximum. War, nuclear radiation, and other risks are typically not included, though. If a homeowner intentionally causes fire damage to their home, their insurance will not pay for repairs. Any damage done to a house that has been unoccupied for more than 30 consecutive days will not be compensated. Depending on your location, additional perils may not be covered by your policy or may result in higher premiums. Wildfire-prone areas may have additional rules imposed on them.
When additional fire insurance is purchased on top of a conventional homeowner's policy, those repairs that aren't covered by the standard coverage can be paid for with this additional money. We can help you determine if additional insurance is required.
Fire Insurance Quotes in Houston
You should have good fire insurance if you live in Houston or the nearby area. Not everyone has fire insurance, and even fewer understand that not all policies cover the same things.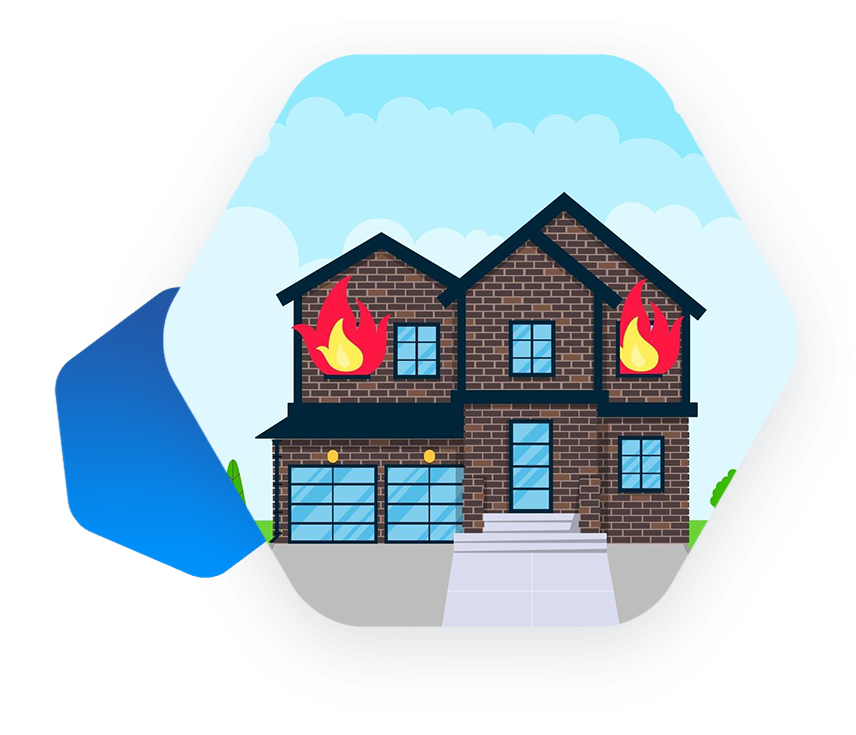 If you're unsure about buying extra fire insurance, consider the following: Can I safely say that I do not reside in a region prone to wildfires? To what extent does my residence contain anything of monetary value? Can you name any rare or collectible objects that I might have? Those who replied "yes" to any of the above questions should consult with our insurance agent about expanding their fire protections. You may get free estimates from us for fire insurance, and we can assist you in finding a policy that will cover everything in your home. We can also assist you in selecting the best fire insurance policy if you are unsure of the level of protection you want.
Houston Fire Insurance Agents
Having a plan in place is crucial since a fire can break out at any time. We have an in-depth familiarity with the many forms of fire insurance Houston TX coverage, and the implications each has for you or your company. We will assist you in locating the solution that meets your requirements.
We can help you:
Choose the right amount of coverage based on your home and belongings' value.
Find affordable options that meet your budget without sacrificing quality.
Get covered against all kinds of fires, including those caused by lightning, electrical malfunctions, and arson.
Find coverage that will protect you from damages to both your home and its contents.
Know what to expect in the event of a fire, including how much time you have to get out safely and where to go for help.
Know how to file a claim if you have one.
Our insurance experts are committed to ensuring that you receive the coverage you require without having idle hours spent on the phone or reading the tiny print. We'll walk you through everything from how much coverage you need to how it works so that when it comes time to file a claim, you know exactly what to do.
We can refer you to a reliable Houston fire insurance broker. We collaborate with respected businesses to achieve your goals without breaking the bank. Let us be a part of keeping your loved ones safe from harm since we know how essential it is to you.
Houston Fire Insurance Company
We realize you have several options for Houston fire insurance. That's why we are here! We're experts at assisting clients in identifying the best insurance policies available from reputable providers to safeguard their most prized possessions. We'll help you find a home or business insurance.
We are a non-profit organization that represents many of the country's leading insurance companies, allowing us to provide our customers with choices in coverage and pricing. We will help you find the right coverage at a competitive price, but we do have relationships with several insurance companies that offer fire insurance in Houston, TX. We can help you find the right coverage for your needs.
Why Choose Pelican Insurance Agency?
At Pelican Insurance Agency, we represent many different insurance companies, so you can be sure that we'll find the right policy for you. We'll discuss your needs and make sure your coverage covers everything.
We know that every home/business is different, so we want to make sure that we're finding a plan that's perfect for you. Our team is trained in how to find policies that are designed specifically for your needs—and they've got years of experience finding the perfect fit.
We're committed to making sure that your fire insurance Houston TX needs are met, no matter what kind of property you have or how much coverage you need. Suppose you have any questions about our services or would like more information about. If you need help, call us at (833) 871-4448.
Frequently Asked Questions
Houston, often known as "Bayou City," "Space City," "H-Town," and "the 713," is a major metropolitan area with a thriving art, medical, and scientific community. There are people of many different faiths and cultures living in the city, and the number of foreign residents is steadily rising. According to some estimates, Houston is the most ethnically and racially diverse major city in the United States, and it also has the largest metropolitan area in Texas. As a result, New York City is now a major stop for Broadway touring companies and a mecca for world-famous musical performances. You may find a wealth of exhibitions, collections, and workshops in the Museum District, that's near the city center. More than 600 hectares of green space can be found in the middle of Houston, making it a green alternative to New York's Central Park.