Fire Insurance Texas City
Fire Insurance Texas City TX
A fire can have devastating effects, causing property damage, making people homeless, and causing thousands of dollars in loss. This is why you need your own fire insurance Texas City policy to protect your house. Proper coverage for your fire-damaged home is crucial if you want to rebuild.
It is a type of coverage designed to help pay for the costs of fires. Fire insurance is not just limited to fire damage and fire prevention. The most common types of fire coverage include:
Business property loss
Business property loss coverage protects your business against the building, equipment, and other business property losses. This coverage also covers business interruption expenses and vandalism or malicious mischief coverage.
Personal property loss
Personal property loss coverage protects you against theft of your personal belongings while they are actually on the premises of your business. It also includes items that are stolen from a locked storage area and vehicles if parked on the premises and unattended at the time of theft. Personal property includes clothing, jewelry, tools, and equipment.
Loss due to liability
Loss due to liability coverage pays for legal defense costs in cases where you have filed a lawsuit for property damage or bodily harm caused by someone else's negligence or wrongdoing. This type of coverage does not cover lawsuits from intentional acts such as libel or slander.
Loss due to vandalism
Vandalism coverage covers damage caused by vandals who steal or destroy your business property when it is left unattended on the premises overnight or during business hours. Coverage may also include damage caused by someone who intentionally fires buildings on your property. This type of coverage does not cover employees' vandalism while acting within the scope of their employment with permission from management.
Loss due to an explosion or natural disaster (such as lightning)
Explosions that occurred by accident in the factory, as well as damage caused by lightning strikes and other types of natural disasters, are covered by this.
Fire Insurance Premiums in Texas City
Texas City residents are encouraged to ensure their homes are insured against fire damage. If you live here, there are three things you should do before paying the fire insurance premiums.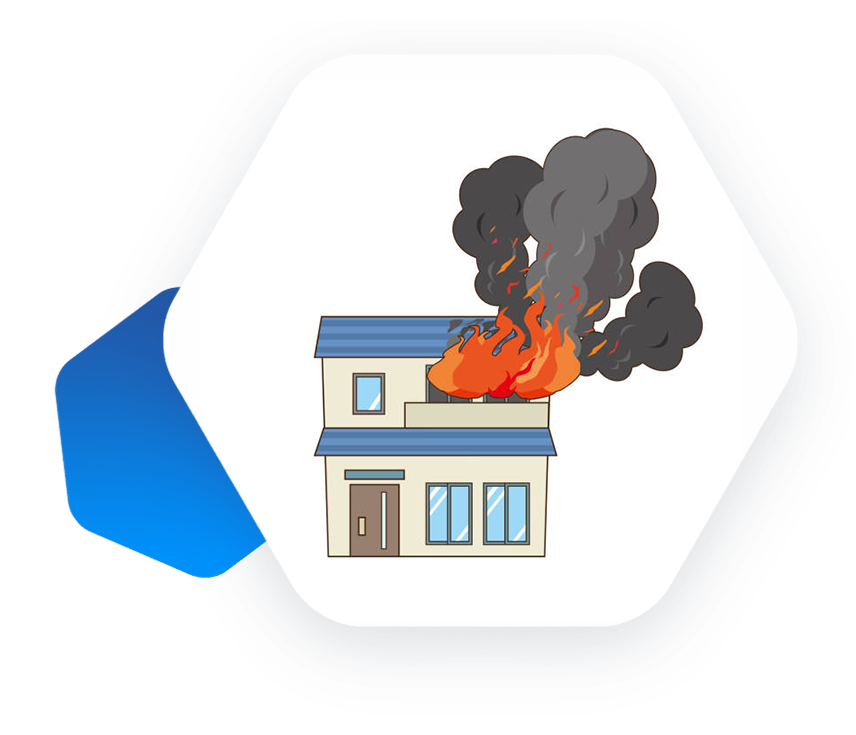 1. Determine if you're covered by fire insurance.
You can check your homeowner's policy to see if it covers fire damage and other types of property damage, such as water and wind damage. If your policy does not cover these types of disasters, consider purchasing an additional policy from a fire insurance Texas City company that does cover them.
2. Verify your homeowner's policy to see if it includes fire damage and other types of property damage, such as water and wind damage.
Depending on the type of insurance that you have under your homeowner's policy, it may cover any loss caused by a covered cause of loss — like fire or lightning — regardless of who caused it or how much was lost. It also might cover losses caused by theft or vandalism, even if they occur while your house is vacant or unoccupied. The coverage depends on what kind of coverage is included in your homeowner's policy and whether there are limits on its maximum dollar amount per occurrence.
3. Make sure your home insurance policy doesn't already include fire insurance.
If you own a house and have homeowners insurance, make sure your policy includes coverage for fires at your residence or businesses within your home or business structure (such as an apartment). Otherwise, contact an independent broker like us to help determine whether your existing homeowner's coverage is adequate for protecting against all types of losses due to fire or other disaster-related events (such as a flood).
When you have fire insurance, it's important to remember a few things.
First and foremost, fire insurance is about covering your losses in the case of a fire. So even if the building is insured, you'll still need to keep an eye on the situation and ensure that you have enough to cover any damages or repairs.
The second thing to remember is that if you're renovating or moving into a new place, you might want to decide to get additional coverage through your home owner's policy. This is because if there's a fire while you're doing renovations and the building has no fire insurance, then neither will your new house! So you must think about what kind of coverage your new home needs before you buy it.
Finally, when looking at different companies' policies, be sure to compare apples with apples—you want all policies from the same company so that if there's ever an emergency, everyone will get paid out in full.
Reach out to us if you have any questions about your fire insurance policy or want to make sure you're covered for all eventualities. And if you're looking for coverage, check out our website for more details.
Advantages of Fire Insurance in Texas City
The first advantage of having fire insurance in Texas City is that it gives you peace of mind. You are at peace knowing that your house is protected from the risk of fire, and you can relax better at night knowing that your family and loved ones are safe.
The second advantage of having fire insurance in Texas City is that you will have greater control over your financial situation. When you have a policy covering all losses due to fire, you will have more money to put toward other areas within your life. You might even be able to save up some money for retirement or start investing with it!
The third advantage of having fire insurance in Texas City is that it can also help with other types of coverage. If you have windstorm damage or earthquake damage policy, these events would also be covered under your policy.
Why Choose Pelican Insurance?
Did you know that fire insurance can protect your home and business in case of a fire? It's true. That's why it is so important for you to have adequate fire insurance Texas City coverage for your belongings, cars, and other valuables. Pelican Insurance Agency offers the highest protection for your home and business items before, during, and after a fire. We want to protect your business or home from being damaged due to one of these accidental fires without any hassles at all! Contact us today for a complimentary quote!
Frequently Asked Questions
You receive great value for your money with the Texas City Museum admission fee. The popular collection of historical artifacts in Texas City, a coastal city, is a great place to start, but after you've had a chance to enjoy it, why not explore some other attractions nearby? Bayou Golf Course, Dike Beach, and Texas City Dike are a few nearby attractions. You can also go fishing at the well-known Texas City Dike, a man-made fishing destination that stretches for 5.3 miles into Galveston Bay and offers a variety of amenities, including a beach, picnic areas, restrooms, and fish cleaning stations. If you want to fish there, you must bring your equipment.