Flood Insurance Friendswood TX
Flood Insurance Friendswood TX
Flood insurance safeguards your home and personal valuables from water damage caused by floods, such as high tides, hurricane storm surges, severe rain, and other natural disasters. A standard house insurance policy does not cover flood damage; if you live in a flood zone or near water, you should consider buying a flood insurance Friendswood TX policy. If you don't already have flood insurance, now is the time to obtain it! We have the top agents who can assist you in finding the best coverage for your needs.
Flood Insurance Coverage in Friendswood
A normal NFIP flood insurance policy includes two main coverages that can be purchased jointly or separately.
Building property coverage: Pays for the repair or rebuilding of your home or garage if it is damaged by a flood. The NFIP's maximum building property coverage limit is $250,000; that is, regardless of the extent of damage, the maximum amount the NFIP will reimburse you for repairs.
Personal property coverage: Covers the cost of repairing or replacing your things if they are damaged in flood. This includes your furniture, electronics, clothing, and other possessions. The NFIP's maximum personal property coverage limit is $100,000.
Additional flood coverage may include the following:
Debris removal
Loss avoidance measures
Floodproofing costs
What's not covered by flood insurance?
Flood insurance is only intended to cover natural flooding events. Therefore coverage has some limitations. Other sorts of flooding, on the other hand, are frequently covered by homeowners insurance. Flood insurance often excludes the following items:
Flooding brought on by non-natural water events (e.g., backed-up toilets or sewers)
Outside property such as patios, fences, pools, septic systems, and plants
Natural flooding events involving less than two acres of land
Any mold, mildew, or moisture damage
Damage from an earthquake or mudslide
Each policy also has its own individual out-of-pocket deductible, which is the amount you must pay before your insurance kicks in. If your home and valuables are both damaged in the same flood, you must file two separate claims with separate deductibles. For further assistance with your flood insurance policy, contact our professionals. Whether you're looking for new coverage or want to make a claim, our agents are ready to help.
Importance of Flood Insurance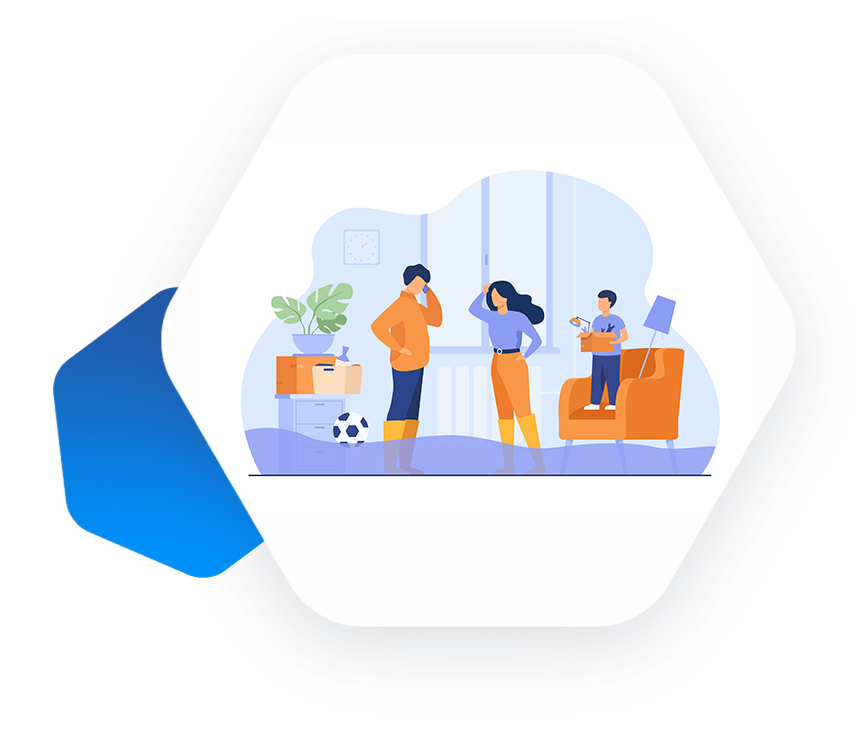 If you own your house, flood insurance will be required to cover the expense of water damage caused by floods. Water damage produced by strong inland or coastal tides, flash floods, mudflow, or other natural flooding causes is not covered by homeowners insurance.
You must pay annual premiums to your insurance carrier to keep your flood insurance valid. If your home or any of its contents are damaged by a flood, you must file a flood insurance Friendswood TX claim to be reimbursed. What you have to pay out of money before your flood insurance kicks in is the deductible.
Types of Flood Insurance in Friendswood
You might ask what type of flood insurance you need or what kind of flood insurance you should buy. Each type of flood insurance is designed for a specific purpose, and it's important to know the differences between them.
Some of the most typical examples include the following:
Homeowners' flood insurance protects your home, including the foundation, plumbing, and electrical systems. This type of policy also covers any personal property you have in your home.
Businessowner's flood insurance protects all of the buildings on your property and their contents. It also covers any machinery or equipment owned by your business.
Renters' flood insurance protects the contents of your apartment, condo, or house. It covers all of the things you own that are inside of your rented dwelling—everything from furniture to clothes to appliances and more!
Our experts will explain all of your choices in detail so that you and your family should pick a plan that works for you. We have access to many different companies and can find the best rates for your budget.
Flood Insurance Agents in Friendswood
There are a variety of insurance providers to choose from when looking for flood insurance, and our staff is available to help you in finding the best option for your requirements. We have helped all types of insurance customers, including those in search of flood insurance. We know which insurance companies to recommend to meet your needs and can provide informed suggestions based on company reliability, rates, and more. We also know how to get you the best rates on your policy and can help you find affordable options that fit your budget. When it comes to flood insurance, we can answer any questions you have about coverage and make sure you are fully protected in the event of a disaster.
Get The Best Quote for Flood Insurance Now!
It is now time to purchase flood insurance if you reside in a high-risk area for natural disasters like floods. Flood damage can be costly, especially if your home is not covered by standard homeowners insurance policies. It's important to understand what types of coverage are available when buying flood insurance. The average cost of flood insurance in Texas is $676 per year, making it one of the less expensive states for flood insurance. Depending on where you reside and how vulnerable your house is to flooding, your flood insurance rates may be much cheaper or higher than the national average.
When you're shopping for flood insurance in Friendswood, TX, you don't have time to waste. That's why at Pelican Insurance Agency, we offer the fastest and most accurate quote possible—so you can get back to other things. When you work with our team, we can help you understand what flood insurance Friendswood TX covers and how much it will cost. We'll also ensure your policy is issued as quickly as possible. Getting your flood insurance quote is simple. Fill out our form for a quote. Or call (833) 871-4448 today for immediate assistance from an experienced agent.
Frequently Asked Questions
Friendswood is a modern suburb of Houston and Galveston, with convenient access to major thoroughfares, major railways, and no fewer than three major airports and deep-water ports. It also has a reputation for having extraordinary demographics, with a wealthy, well-educated population. As part of its commitment to economic growth, the city provides ongoing services to facilitate the relocation and expansion of businesses. The newest park in Friendswood, Texas, is Centennial Park, which features the usual fare like a paved jogging trail, multi-purpose fields for all ages and groups, a children's playground, soccer fields, and a picnic area. The museum honoring Friendswood's founder, Frank J. Brown, is housed in a replica of the first house constructed in the community in 1895. The museum's first floor is fashioned as a Quaker home.