What Are Commercial Insurances?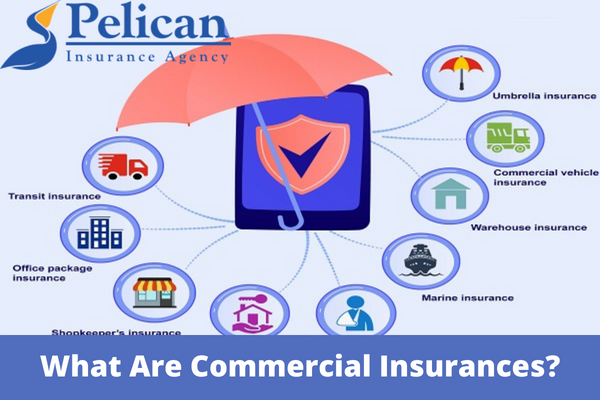 Commercial insurance can offer protection against many common risks that a business faces. These include lawsuits brought by clients, injuries caused to customers or employees, and damage to property owned by the company.
There are many types of commercial insurance policies, each with unique benefits. When fully researched and chosen appropriately for your company's needs, the right coverage can ensure that all bases will be covered when disaster strikes. Here, we've listed some of the most common types of commercial insurance.
Commercial General Liability Insurance
This is the most common type of coverage purchased by businesses because it covers many general business risks, such as property damage, bodily injury, and medical payments. A commercial general liability policy will cover you if your company is found liable for third-party injury or property damage on or off your premises.
Commercial Property Insurance
This policy covers essential items like equipment and inventory and the building you own or rent. It also protects your company against damage to its tools and property used to operate it. This type of insurance is ideal for small business owners because it reimburses the legal occupant of a building and its contents financially in the event of damage or theft.
Cyber Liability Insurance
Cyber insurance policies are intended to assist businesses in mitigating the effects of cybercrimes such as ransomware, malware, distributed denial-of-service (DDoS) attacks, and others that may be used to compromise a network and confidential data. It is also known as security insurance or cyber risk insurance; these products are tailored to assist businesses in mitigating specific cyber risks.
Business Income Insurance
If your company cannot operate due to covered property damage, business income insurance can help you make up for lost profits and continue operations. Business income insurance also serves as business interruption insurance or income protection if necessary—providing a safety net if something prevents your company from making money during an important time period.
Workers' Compensation Insurance
Workers' compensation covers medical expenses, lost wages, and rehabilitation costs for employees who are injured or become ill while working. It also provides death benefits to the families of employees killed on the job.
Commercial Auto Insurance
This helps cover the costs of an auto accident while you or an employee are using a company-owned vehicle for business purposes. This coverage can help pay for property damage and medical expenses even in a fatal accident.
Get a Commercial Insurance Quote Right Now!
At Pelican Insurance Agency, we can help you learn more about commercial insurance definitions and what they cover. Our qualified team will help you get the insurance coverage you need. Whether it's for your business or assisting with filing a claim, we're here to ensure that our clients' needs are met. We strive to ensure you receive the coverage you need at a price that fits your budget. We're truly here to help you understand the ins and outs of commercial insurance, so contact us today!