What Is Commercial Insurance Coverage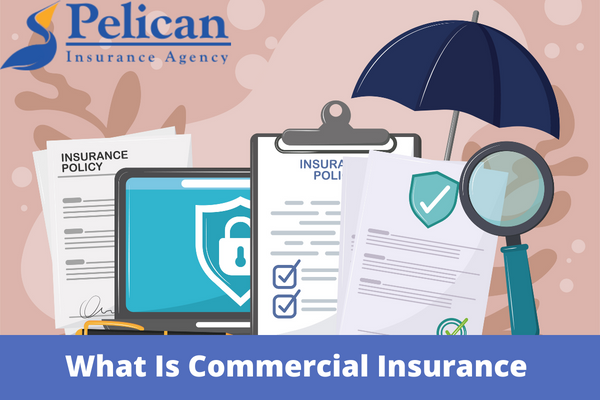 Commercial insurance aids in defending your business from a variety of hazards and claims. It may include bodily harm, data breaches, property damage, and many more. You can secure a variety of commercial insurance policies to safeguard your business. Every coverage benefits you differently, from workers' compensation to general liability insurance.
By selecting the appropriate types of insurance, your business can create a policy tailored to your specific requirements.
Types of Commercial Insurance
Several various types of commercial insurance coverages can aid in defending your company, including:
Commercial Auto Insurance
If you use company-owned vehicles for work, you should have commercial auto insurance to assist and protect you and your staff while driving.
Commercial Property Insurance
Business property insurance aids in safeguarding the office space that your business owns or rents, as well as any operational equipment.
General Liability Insurance
Business general liability insurance aids in defending against allegations that your business damaged someone else's property or caused bodily harm.
Workers Compensation Insurance
Provide benefits to your employees with workers' compensation insurance if they suffer an illness or injury at work.
Cyber Insurance
If personally identifiable information is misplaced or stolen, data breach insurance, often known as cyber insurance, can assist your company in dealing with the breach.
Business Income Insurance
Business income insurance, commonly called business interruption insurance, can assist you in making up lost income if covered property damage prevents you from operating.
Business Owner's Policy
Business Owner's Policy (BOP) includes coverage for business income, general liability, and commercial property.
How Much Does Commercial Insurance Cost?
Costs for commercial insurance vary because each business is different. Insurance firms evaluate various variables, including:
Payroll

Number of Employees

Risk Exposure

Location, and

Years in Operation.
Depending on the kind of commercial insurance, an insurance firm may employ different criteria.
What Do You Need To Know About Business Insurance Protection?
When you purchase commercial insurance, your policy will contain information on how it functions. You'll encounter words you might not be acquainted with, but we can explain them.
Premiums:
This represents the entire price your business must pay an insurer to obtain coverage. Can pay this fee in whole now or over time.
Deductibles:
The sum you must pay before insurance starts to provide benefits. For instance, if your deductible is $100, you must pay that amount when you submit a claim to be covered.
Policy Limits:
This sum is the most that your insurance provider will pay out on a claim. Thus, Your insurance provider will pay up to a certain amount if you submit a covered claim. All expenses that go over the allotted amount are your responsibility.
Exclusions:
If a loss or event is specified on an exclusions list, your insurance provider won't pay for it.
What's Next
You can create a customized insurance package to help protect your business. The right combination of policies will ensure that your company receives the coverage it needs at an affordable price. Contact Pelican Insurance Agency today to learn more about commercial insurance coverage options. We're truly committed to providing our customers with quality service and competitive rates on commercial insurance policies from top-rated carriers.