Does Home Insurance Cover Hurricane Flooding?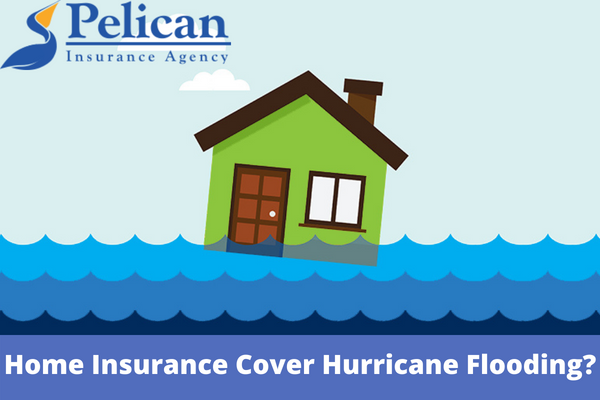 You most likely have a plan if you live in a hurricane-prone area. How much devastation can a hurricane cause, and what types of insurance coverage will be required to compensate? The insured's location, the damage's severity, the policy's terms, and the amount of coverage purchased can all impact the final tally. Consider the following when it comes to hurricanes and homeowners insurance.
How Does Home Insurance Protect Against Hurricane Damage?
Your homeowner's insurance policy can cover hurricane damage in the following ways:
If a hurricane damages the structure of your home, dwelling coverage may pay for repairs up to the limits of your policy.

You may be able to get your personal belongings fixed or replaced if they were damaged in the hurricane, depending on the terms of your policy.

When a hurricane destroys your home and forces you to seek refuge elsewhere, your policy's loss of use provision may reimburse you for temporary lodging, food, and other living expenses.
A deductible is included in both the dwelling and personal property coverages. You must recognize that your windstorm deductible may be much greater than the deductible for other perils listed on your policy.
Is Hurricane Flooding Covered by Home Insurance?
Most standard homeowner's insurance policies do not pay out for flood damage. Your home is not protected from hurricane-caused floods outside by your standard homeowner's insurance policy; you need a separate flood insurance policy for that. A flood endorsement is an optional coverage that some insurance companies will add to a standard homeowner's insurance policy.
How Do Hurricane Deductibles Work?
Your homeowner's insurance may cover wind and hurricane damage, but you may have to pay an additional deductible if you file a claim. In most cases, these deductibles range from 1 percent to 5 percent of the amount insured on the home itself, significantly higher than the deductibles on a standard homeowners policy. If your hurricane deductible is 5% of your policy's coverage amount, for instance, and your policy's maximum coverage is $400,000, your deductible could be $20,000.
Consider Additional Hurricane Coverage Options
Flood Protection Insurance
Flooding, even from a hurricane, may surprise some homeowners. This is why, if you have a mortgage, many lenders require you to have flood insurance. The National Flood Insurance Program is one of the most common ways to obtain flood insurance (NFIP).
Water Backup Protection
Sewage overflow is the last thing on anyone's mind after a hurricane, but it can happen if the water table rises too high. Water backup coverage will kick in to protect your home and belongings when sewage water backs up through your plumbing or sump pump.
Coverage For Debris Removal
Debris removal is typically covered by homeowners insurance if, for example, a tree falls on your property. Coverage, however, is typically capped at some dollar amount. Cleaning up after a hurricane is expensive and may cost more than your insurance policy's debris removal deductible. You may want to see if your insurer offers an endorsement to raise that limit.
In Conclusion
Insurance policies for homeowners vary greatly. Some only cover the fundamentals, while others offer comprehensive protection against natural disasters such as hurricanes. With the increased frequency and severity of hurricanes, it is critical to protect yourself against catastrophic costs from natural disaster damage. For more information on home insurance, contact Pelican Insurance Agency.