How To Get Commercial Insurance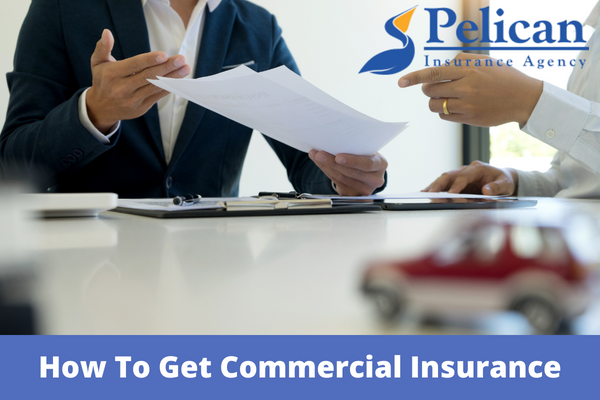 In the event of unforeseen expenses, commercial insurance can help cover the shortfall. Accidents, natural catastrophes, and lawsuits drive you out of business if you're not covered with the correct insurance.
It is critical to research and purchase enough coverage for your company. You may be asking how to acquire business insurance precisely because there are so many different kinds of insurance and so many other insurance companies from which to select.
You may easily insure your small business by following the four-step process shown below: analyzing your risks and selecting the appropriate policies.
Weigh The Risks
It would be the best choice if you considered the risks that might affect your business, such as natural disasters, litigation, etc. For example, business property insurance might be helpful if your company is in a commercial location prone to natural disasters like fire and hail.
Your company's potential vulnerability to certain types of accidents; for instance, a retail store has a far higher potential for a slip-and-fall accident than a home-based firm has.
Questions To Ponder
Do you have workers running your company? If so, there are measures you should put in place to safeguard both them and your company.
What kinds of lawsuits can your company face? Businesses that produce their goods are more likely to be sued for product faults than those that do not.
Look For A Qualified Agent You Can Trust
If you work with a commercial insurance agent, they may assist you in locating coverage that meets your specific requirements. It's crucial to select a certified agent that puts your needs ahead of your own to maximize the fee you earn from the insurance company.
Consult A Broker
One possible first step is to consult a professional insurance broker. Leaning on a broker's knowledge might be especially helpful if you're learning how to acquire business insurance for the first time.
Make Use Of An Insurance Market
There's also the possibility that you won't need a broker at all for your company. If this is your situation, you may consider using an online marketplace for commercial insurance.
Explore Your Options
Benefits and costs might range widely. Many providers' insurance quotes, conditions, and coverage options should be compared and contrasted. Getting business insurance quotes is a crucial step in the process, so be sure to take your time reviewing them, asking questions, and even getting professional advice.
Examine Again Annually
Once you've done that, check that you understand when payments are due, how to submit a claim, and who to contact for help. Liabilities increase in proportion to the size of your firm. Contact your insurance agent to discuss any upgrades, additions, or replacements to your company that may influence your policy.
Commercial business insurance protects businesses, their employees, and their ownership. Pelican Insurance Agency can help you find the right business insurance policy for your company. We do this by comparing rates from many different companies and working hard to get you the best deal possible on insurance premiums.